I've been threading and tweezing my eyebrows for years. Then, a few years ago when I moved to Shanghai, I stopped because I wan't able to find a salon that does threading. For some reason eyebrow threading isn't big there. So one day while I was getting my facial done, the facialist asked me if I wanted to get my eyebrows shaped. I thought, "why not" since it's all included in the facial. It was life-changing! From then on, I decided to start shaving my eyebrows just to "clean up" the corners.
I was in search for the perfect razor as normal razors lack precision. So while I was in Hong Kong, I stumbled upon a beauty store called, SaSa (The Orients equivalent to Sephora) and found the perfect eyebrow razor. The T-shaped razor is made by a Japanese company called, KAI Beauty Care. It is ergonomically made for eyebrows and even the peach fuzz on your face.
I have tried other shapes and brands of eyebrow razors but this is still my favourite. There's just something with the fact that it is T-shaped that makes it so much easier to shape my brows accurately. Plus, you could easily get them from amazon.com for about $3.30! What a bargain!
I've also tried these Twinkle razors form Amazon (below) but they are definitely inferior compared to Kai's. The length of these razors are a little too long for the corners of your brows. Plus they are not are sharp and would some times leave some residues. I think this length would probably be more suited for things such as derma planting.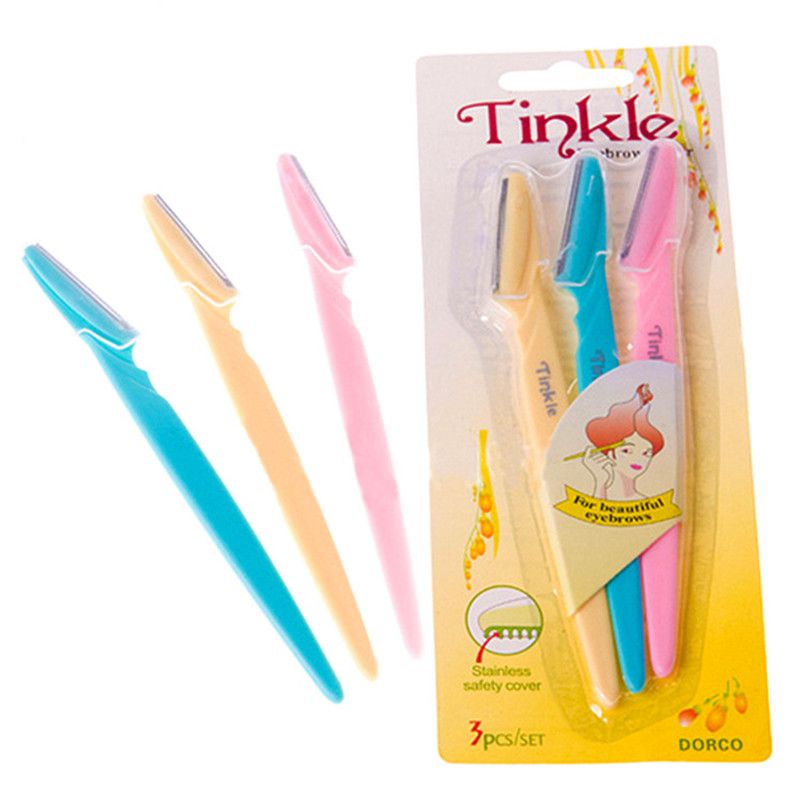 Also, I would advise against tweezing your eyebrows especially when your pores haven't been properly "warmed up". I made the mistake once for not tweezing my eyebrows post-shower, not only did it hurt but I ended up having little blood dots around my eyebrows.  Some went away eventually but for some reason one didn't I guess I must have damaged a minor blood vessel.
Don't forget to stretch the skin when you tweeze your brows. This helps to "open up" your pores. Also, constant tweezing actually damaging your hair follicle. This is probably not the best scenario for your brows because eyebrow styles change frequently and you wouldn't want to over pluck as it may thin out your brows beyond repair. Remember the 90s? When thin eyebrows were in? And now it's all about bushy brows?
The best part about shaving your brows, it's not only that is cost-effective but you can constantly have perfectly shaped eyebrows without leaving the comfort of your home. Plus, if you want to change the shape of your brows, you can just easily grow it out and shape it from there. Just like you would with a haircut.
If you are keen to try it out, you can follow the following steps below:
Cleanse face
Exfoliate your brows (once a week- in between shave to counter 'in-grown' hair)
Apply aloe vera gel (optional- to lubricate area)
Shape with a mini razor
Use a toner
Carryout usual skincare routine
Use a min SPF30 sunscreen (daytime)
X,
RNF